10 Most Promising AWS Solution Providers - 2021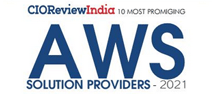 AWS (Amazon Web Services) is a cloud computing platform provided by multinational tech giant Amazon that includes a mixture of infrastructure as a service (IaaS), plat-form as a service (PaaS) and packaged software as a service (SaaS) offerings. It was first built in 2006 to handle Amazon's online retail operations. Amazon was one of the first companies to introduce a pay-as-you-go cloud computing model that scales to provide users with compute, storage or through-put as needed. They develop different tools and solutions for enterprises and software developers. AWS can be used by any group organizations like government agencies, education institutions, non-profits and private organizations.
AWS comprises of more than 100 services, which services like compute, databases, infrastructure management, application development and security. AWS witnessed a record $14.8 billion in net sales, accounting for just over 13 percent of Amazon's total net sales. The platform has grown steadily the past few quarters.
AWS is made-up of different cloud computing products and services. AWS can be broken into three main products: EC2 - Amazon's virtual ma-chine service, Glacier - a low-cost cloud storage service, and S3 - Amazon's storage system. It takes over a one third of the market. In AWS, companies pay for what they use. This modification of costs according to customer usage makes it possible for startups and small businesses to benefit from using AWS for computing needs.
Understanding the need of the hour, team CIOReviewIndia has come-up with a list of `10 Most Promising AWS Solution Providers - ­ 2021' who have proved their proficiency in the sector with a deep knowledge in technology. The following list is prepared closely scrutinized by a panel of judges consisting of CEOs, CIOs, CXO, analysts, and our editorial board. We believe that these platforms will help in transforming business processes through their significant expertise and knowledge.
We present to you CIOTechOutlook 10 Most Promising AWS Solution Providers - 2021.
10 Most Promising AWS Solution Providers - 2021
| Company Name | Company Description |
| --- | --- |
| Avertech Services | Designs infrastructure that potentially satisfies requirements of AWS best practices and WAR pillars for its clients along with helping clients embrace cloud technologies and migrate their... |
| | |
| --- | --- |
| Accuserves | Assists clients through the development of a broad range of applications while supporting them with the complete infrastructure to keep the operations of the application up and running |
| Ahana Systems and Solutions | Offers cloud consulting services around some of the world's best known public clouds such as Microsoft Azure, Amazon Web Services, and Digital Ocean |
| aQb Solutions | An AWS Cloud Consulting Partner offering a wide gamut of services such as AWS Management, SaaS Application Development, Business Process Management, IT Transformation and more |
| Cloud4C | Offering a suite of AWS services that include AWS Coud Strategy, AWS Migration, AWS Cloud Managed Services, AWS Infrastructure Management & Set-up and more |
| CloudOYE | Offering a wide range of services that include Cloud Hosting, Dedicated Server Hosting, VPS Server Hosting, Colocation, Email Hosting and much more, at affordable rates |
| OpsTree Solutions | Offers solutions through their AWS Specific verticals/COEs (Centre of Excellence) for Security, Cost Optimization & Well-architected framework |
| Rapyder Cloud Solutions | Specialist in the areas of AWS Consulting, AWS Cloud Migration, AWS Cloud Security, DevOps Automation, Managed Cloud Services, and more |
| SourceFuse Technologies | Having delivered over 600 AWS implementations, it is a leading AWS Advanced Consulting Partner that boosts efficiency, ensures compliance, delivers actionable insights and lowers total cost of... |
| Tech Vedika | Providing our customers cutting-edge products & solutions in areas of Supply Chain & Logistics, People & Workplace, and Manufacturing & Inspection by leveraging technologies like AI, ML, Computer... |