20 Most Promising Amazon Solution Providers - 2016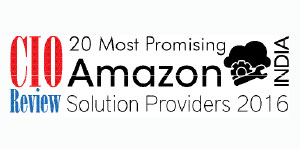 In 2015 Magic Quadrant for IaaS, Gartner placed Amazon Web Services in the "Leaders" quadrant. Since the inception in 2006, AWS has been enabling organizations to gain competitive advantages. Although AWS solutions have numerous benefits, but privacy, security, integration and compliance issues are still one of the major impediments to AWS cloud adoption. In this regard, AWS partners come to the forth and help create customized plans for building applications on the cloud by offering cutting edge technology solutions and tools for cloud security, scalability and elasticity across hybrid IT environment.
As AWS partner's expertise spans across architecture, design, implementation, deployment, scaling and maintenance of mission critical production environments, they can assist organizations develop a strategy for mapping out the best route to the cloud. In addition, AWS partners also leverage cloud to provide a combination of Sales-Channel Management platform that allows enterprises to increase productivity of their sales and distribution channels apart from enabling them reduce expenses related to business acquisitions and channel operations. They also unlock the complete potential of Amazon web stores and helps sellers worldwide to launch their online stores. More than just delivering world-class solutions, AWS partners thrive to retain blueprints for continued success.
However, with the increasing number of IT companies providing AWS solutions, it becomes difficult for enterprises to opt for the right partner. To guide you to opt for most effective AWS partners in India, CIOReview presents '20 Most Promising Amazon Solution providers in India. Each company in the list has unique qualities and strengths in leveraging AWS in different ways. A distinguished panel comprising of successful CEOs, CIOs, VC, analysts and CIOReview's editorial board have finalized the list. The list will enable enterprises to get a clear picture of emerging AWS solutions providers in India.
We present to you CIOTechOutlook 20 Most Promising Amazon Solution Providers - 2016.
| | |
| --- | --- |
| 8KMiles | A provider of Amazon Web Services Consulting solutions, Identity Access Governance, Analysis Solutions, UX and Mobility Solutions |
| AVEVA Information Technology India Pvt. Ltd | A provider of Engineering, Design and Information Management software solutions |
| CloudZon Infoconnect | A provider of AWS cloud solutions for SaaS, PaaS, laaS service models and B2B integration services and Cloud-to-Cloud services |
| Commvault India | A provider of support for the AWS Cloud, helping automate and optimize data management and infrastructure management operations for customers |
| Fission Labs | A provider of internet applications on mobile and web - both for consumers and enterprises, analytics applications using big data technologies |
| GirnarSoft | A provider of Amazon web hosting services and Amazon web services for search engines, media and entertainment, high performance computing, e-commerce and enterprise IT |
| Herald Logic | A provider of subscription based Sales-Channel Management platform on the Cloud |
| Hidden Brains InfoTech | A provider of Cloud to Cloud and Business-to-Business integration services for SaaS, PaaS and IaaS service delivery models |
| Infomanav | A provider of mobile applications, online applications for banks and other organizations, video marketing platform and other marketing solutions. |
| Innova Solutions Inc. | A provider of Enterprise Cloud Transformation, Analytics & Information Management and Operations Managed Services. |
| Intelligentia IT Systems | A provider of Managed Amazon Web Services, AWS Support, AWS Consulting and AWS Performance Monitoring |
| Intellika Technologies | A provider of Cloud Computing , Dedicated Server Hosting, Virtual Private Server(VPS), SaaS and Mailing Solutions |
| KLoc Technologies | A provider of logo designs, custom online store designs and services like payment gateway, shipping and marketing. |
| Minjar Cloud Solutions  | A provider of cloud computing, BigData, DevOps, IT Management, Business Transformation, AWS, Public Cloud, Hybrid Cloud Solutions |
| NetApp | A provider of Private Cloud for AWS for maximum performance, scale, availability, or control and Cloud ONTAP for AWS for enterprise data management |
| NewGenApps | A provider of Mobile App Development, AWS Cloud Solutions, Web Development, E-commerce Solutions, Digital Marketing and Web Designing Solutions. |
| OSSCube | A provider of AWS services india for web, mobile, social media applications and other backend platforms. |
| Rean Solutions Inc. | A provider of AWS Cloud Services, Cloud, big data, cloud solutions, managed services, cloud security and cloud compliance solutions |
| Trianz Inc. | A provider of Enterprise Applications, E-Commerce Applications, Learning Management Systems, Portals and data transformation and processing service |
| Umbrella InfoCare | A provider of cloud migrations, cloud infra optimisation service of cloud infrastructure and other managed services. |